Based upon grocery receipts using Nielsen scanner data (Kilts-Nielsen Data Center at the University of Chicago Booth School of Business), nearly 1/3 of all Arrowhead brand water is sold outside state boundaries of its aquifers. We developed a visualization of bottled water sales for the bottled water Arrowhead brand (Nestle). Nestle's Arrowhead brand of bottled water has 11 of its 12 aquifers located in California (the 12th is in Colorado), and 2006-2013 sales of the bottled water expand out across the country (shown below).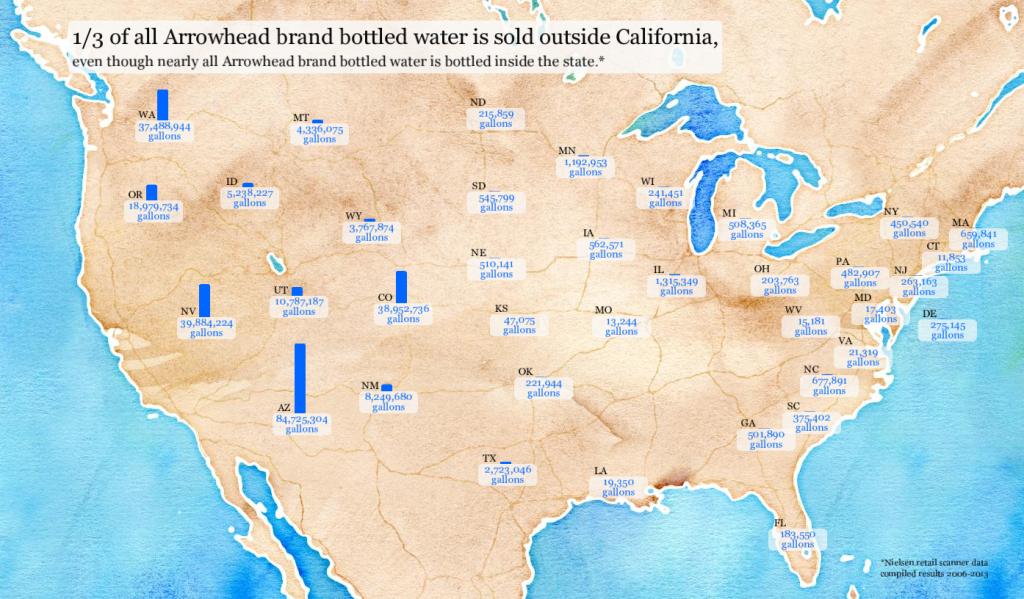 Information on availability and access to the data is available at research.ChicagoBooth.edu/nielsen
Listed Locations of Nestle's aquifers (http://www.nestle-watersna.com/asset-library/Documents/AR_ENG.pdf, which was last accessed April, 2015).
Southern Pacific Springs, Riverside County, CA;
Arrowhead Springs, San Bernardino County, CA;
Long Point Ranch Springs, Running Springs, CA;
Palomar Mountain Granite Springs (PMGS), Palomar, CA;
Deer Canyon Springs, San Bernardino County, CA;
Coyote Springs, Inyo County, CA;
White Meadow Spring, El Dorado County, CA;
Lukens Springs, Placer County, CA;
Sopiago Springs, El Dorado County, CA;
Sugar Pine Springs, Tuolumne County, CA;
Arcadia Springs, Napa County, CA;
Hope Springs, Hope BC Canada and/or Ruby Springs, Chaffee County, CO.